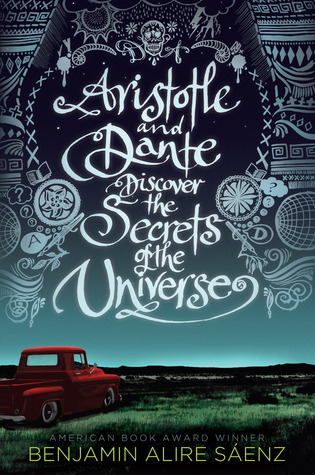 Publication Date:

February 21st 2012
Publisher:

Simon & Schuster
~~~~~~~~~~~~~~~~~~~~~~~~~~~~
Synopsis:
Aristotle is an angry teen with a brother in prison. Dante is a know-it-all who has an unusual way of looking at the world. When the two meet at the swimming pool, they seem to have nothing in common. But as the loners start spending time together, they discover that they share a special friendship—the kind that changes lives and lasts a lifetime. And it is through this friendship that Ari and Dante will learn the most important truths about themselves and the kind of people they want to be.

~~~~~~~~~~~~~~~~~~~~~~~~~~~~
If you about this book and all the shiny awards that it has received, you might think that this is a book that I will forever praise and worship until I die. Actually...no. It's not that I hated this book at all, it's just that this book didn't blow my brains out as much as I thought it would. I still really enjoyed this though.
This book doesn't really have a plot, but it's more of this story about Aristotle who is trying to figure out his life and how this boy his age, Dante, helps him. It was really interesting seeing how this character developed and grew over the course of the novel and this book takes place over the course of about a year. But it wasn't until the end when he really figured it all out.
This story is more character driven, so I am warning you that if you are in the mood for an action-packed and fast paced story, I suggest waiting to pick this book up. Again, since this book is primarily focused on Ari's coming of age, it is a slow story, but I personally flew through it would I was really in the story and his mind.
The writing was really good, it had a fantastical feel to it, and the story had a mellow and casual feel to it. The story also, with it's flow, felt real. Like some events happened and the characters would have to deal with it and they didn't happen to often.
I don't think I can really say much more about this book without spoiling it for you, so I will end my review with my overall thoughts. I really enjoyed this book. The characters were fantastic, even though I was slightly annoyed it focused primarily on Ari and Dante but it makes sense, the mood was mellow, and it was overall a great book. My final rating for this book is a solid 4/5 stars.