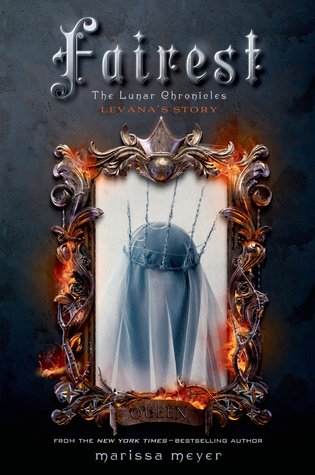 Series: The Lunar Chronicles

0.5

Genre: Fantasy,

Science Fiction

Book Length: 220 pages

Publication Date

:

January 27th, 2015

Publisher:

Feiwel and Friends

Format: Hardcover
~~~~~~~~~~~~~~~~~~~~~~~~~~~
Synopsis:
Mirror, mirror on the wall,
Who is the fairest of them all?

Fans of the Lunar Chronicles know Queen Levana as a ruler who uses her "glamour" to gain power. But long before she crossed paths with Cinder, Scarlet, and Cress, Levana lived a very different story – a story that has never been told . . . until now.

Marissa Meyer spins yet another unforgettable tale about love and war, deceit and death. This extraordinary book includes full-color art and an excerpt from Winter, the next book in the Lunar Chronicles series.
~~~~~~~~~~~~~~~~~~~~~~~~~~~
Ermergerd, I absolutely loved this installment in the Lunar Chronicles. Before I continue on with my review, I'll tell you that if you have started this series and you want to start with this because it is the prequel, I do not recommend that at all because a lot of things will be spoiled for you if you read this before the other installments. I would suggest reading this after you finish Cress and before Winter when it does come out. Anyway, here's the review:
Like I said, I just loved this installment. We get to learn so so much about Levana
before the events in the main series, and even though it focuses heavily on character development for Levana and her life and is not as action-packed as the other books, I loved it, I thought that it was really fascinating learning about her life and how she is the way she is.

Now, let's talk about Levana's character. Oh my god. I honestly have no idea how Marissa Meyer was able to do this, but she added so much complexity to this villain that we don't know too much about in the main series other than that she wants to rule Earth. So so so much happened to Levana and the events that did happen to her I felt bad for her, but at the same time you can see, thanks to what happened to her, how messed up and twisted she is. After this installment, I now kind of like Levana for how much I hate her, and that is how I know Marissa Meyer did a fantastic job with developing Levana and made a successful villain.

There isn't anything else I can think of to say about Fairest. It was a slow book, but it took it's time with developing Levana's character with this layer and side we saw in her backstory. And this makes me a million times more excited for Winter. I give Fairest by Marissa Meyer a 5/5 stars.