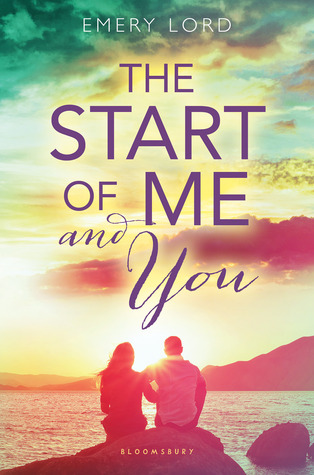 Series: Standalone
Book Length: 384 pages

Publication Date

:

March 31st, 2015

Publisher:

Bloomsbury

Format: Hardcover
~~~~~~~~~~~~~~~~~~~~~~~~~~~
Synopsis:
Following her pitch-perfect debut Open Road Summer, Emery Lord pens another gorgeous story of best friends, new love, & second chances.

Brimming with heartfelt relationships and authentic high-school dynamics The Start of Me and You proves that it's never too late for second chances.

It's been a year since it happened—when Paige Hancock's first boyfriend died in an accident. After shutting out the world for two years, Paige is finally ready for a second chance at high school . . . and she has a plan. First: Get her old crush, Ryan Chase, to date her—the perfect way to convince everyone she's back to normal. Next: Join a club—simple, it's high school after all. But when Ryan's sweet, nerdy cousin, Max, moves to town and recruits Paige for the Quiz Bowl team (of all things!) her perfect plan is thrown for a serious loop. Will Paige be able to face her fears and finally open herself up to the life she was meant to live?
~~~~~~~~~~~~~~~~~~~~~~~~~~~
It's that time of year, it's time to pick up and fly through those cutesy contemporaries that just warms your heart and make you excited for the coming spring and summer season. So, I picked up my first for the season, and I really really enjoyed it.
I want to first start out with the characters. I loved them all, especially because they all felt real. Like, I could find someone in my real life who is like these characters. And while they have perks, they also have their flaws. Nobody in this book is perfect, and I really appreciate that.
Although, our main character Paige annoyed me a few times in the book, more of in the beginning. She was going crazy about her crush on Ryan, and this is just my personal preference, I felt like she was going a little too insane about it and it just made me like this:
But she does develop and not be as annoying later on, and I think it just makes her seem like a more realistic character.
Next, the relationships. When you look at the cover, or just read the synopsis, you probably assume that it's just going to be about Paige's love life; but in truth it 's more then that. This book not only focuses on Paige finding loving, but it also focuses on the family and friendship, which pleasantly surprised me. Especially considering that Emery Lord does this really well. The relationships with everyone, and how they progressed, felt realistic and I think that other contemporaries should look at this for how relationships should be and be developed.
I loved the friendship that Paige had with her three best friends (Morgan, Tessa, and Kayleigh (I'm sorry if I forgot or misspelled any of these)). Unlike most contemporaries (or books I've read in general), Paige doesn't have just one best friend, but three and they all help each other out and bring out the best in each other (another thing I wish most contemporaries had). And it's true in real life, for some of us at least. Some of us have not only one best friend but two or three (like Paige), and I think that it makes this story all the more realistic.
Also, Max and Paige's relationship just...
The writing itself, it was so so so good. It kind of had an addictive quality that made me want to read it in a whole day, and it was also easy-to-read (like most contemporaries are, but I consider that a good thing).
Another thing was that the writing, and how Emery Lord started the book really caught my attention. Like I read page one and I was like "Oh my god, I need to read the rest of this like now.". And the ending was really nice and it does hint at a nice ending for these characters (I actually kind of want a sequel about the events after this book because it did do that contemporary thing where the characters are finally getting together or close together and the book ends).
So, in the end, I would give this book a 4.5/5 stars. While it does have the qualities to be a 5 star book for me, it just didn't blow my mind out. I definitely do recommend this book though, especially if you want to read about characters and relationships that feel realistic, a book that you can read in a single day, or if you love anything nerdy.